Jan. 3, a Tarrant County game warden helped a Parker County game warden investigate a stolen deer claim. The complainant said after shooting a doe, he went to get his truck so he could load the deer. Upon returning to the site, to his surprise, the deer had vanished. The man followed a trail of blood to the edge of the woods where he discovered a gut pile. Slyly, the man wrote down the license plate number from the vehicle of two men wearing camouflage who claimed to be hunting in the same area. The wardens tracked the vehicle back to a residence, where they saw a man wearing camouflage entering. Upon investigating the backyard, the wardens saw two dear carcasses hanging in a tree. Further investigation and a partial excavation revealed two untagged dear, an improperly tagged deer, no proof of sex and illegal dumping. The stolen deer was returned to the rightful owner, and the cases are still pending.
A&M scientists marvel at trio of healthy fawns
By ARENA WELCH
Eagle Staff Writer
Texas A&M researchers recently bred Dewey, the world's first cloned white-tailed deer, in hopes of studying whether his large antlers would be inherited by his offspring.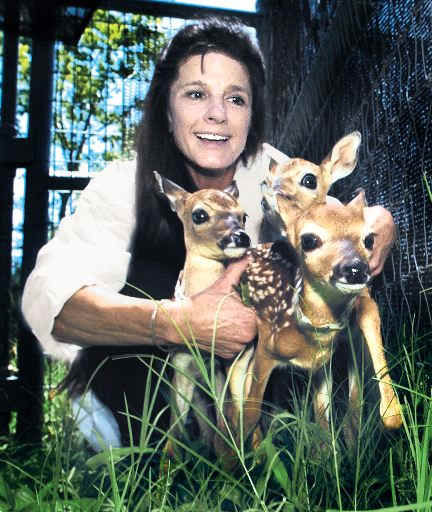 Eagle Photo/Dave McDermand

Alice Blue-McLendon of the Texas A&M Wildlife and Exotic Center said the triplet fawns are the offspring of a cloned father, Dewey. The purpose of Dewey has been to study whether his large antlers can be inherited, so the three fawns, all females, wonÕt be much help. They are named Sandy, Debbie and Gavi.

But even though his triplet fawns were born last Wednesday - giving researchers three shots at exploration - they're going to have to wait for the next round.

Born at the Texas A&M Wildlife and Exotic Center, Sandy, Debbie and Gavi are happy, healthy and a little big for their age, experts said.

And, as each name suggests, they are female.

"We'll have to see what it does in the next generation," said Alice Blue-McLendon, who oversees their care at the center.

Blue-McLendon said re-searchers weren't disappointed. They will keep breeding Dewey and eventually study his sons to see if the offspring of a clone will inherit his large antlers, just like the offspring of a natural buck would.

Scientists now have no knowledge about antler inheritance in the offspring of a clone, the clinical veterinarian said.

Sandy and Debbie each weighed 5 1/2 pounds at birth, while Gavi weighed about 3 1/4 pounds.

The trio's mother, Heidi, is 10 years old. Dewey was born in May 2003 and is the only cloned deer at the center. He was cloned using skin tissue from a slain deer - another first, Blue-McLendon said. The buck whose cells were used was described as "larger than average," which makes Dewey, his genetic equal, the ideal source of large antlers.

Since 1999, Texas A&M researchers have cloned six other species not including Dewey. Second Chance, a bull, was born in August 1999. A disease-resistant calf named 86 Squared was cloned in November 2000. In 2001, three cloned species were born - a Boer goat named Second Addition in March, a litter of piglets in August and a cat named cc, short for carbon copy or copy cat, in December. In March 2005, Paris Texas, the first cloned horse in North America, was born.

Triplet fawns are rare, and the center never has had a set, Blue-McLendon said. A doe usually will have only one fawn at a time when she is young, and she can birth twins several years later, she said.

"It's hard for them to raise three," she said. "That's a lot of little mouths to feed."

The trio recently was separated from their mother and are being "hand-raised," meaning they are fed and handled by humans, so they will be tamer and able to handle life at the center around people, Blue-McLendon said.

"They're still wild animals, but they're much better suited for captivity," she said.

Texas A&M students assist the center's staff in feeding and caring for the fawns, Blue-McLendon said.

"They're excellent teaching tools for students who are learning to care for baby livestock," Blue-McLendon said, adding that many students who work at the center want to be veterinarians and zookeepers.

The triplets will remain at the center for life, Blue-McLendon said. In the future, the fawns likely will be studied in reproductive research, she said.

"When they're this young, we don't really know exactly what kind of research projects they'll be used for," she said.

• Arena Welch's e-mail address is arena.welch@ theeagle.com.


Frequently Asked Questions on Chronic Wasting Disease Monitoring

The Big Game staff at TPWD put this FAQ on CWD sheet together.

Movement Qualified Regulations (TPWD) and Monitored Herd Program (TAHC)

Texas Parks and Wildlife Department (TPWD) has new rules affecting movement of white-tailed

and mule deer from breeder facilities. Beginning

April 1, 2007, deer cannot be transferred from

a scientific breeder facility

unless the herd is "Movement Qualified."

What is a "movement qualified" herd?

A movement qualified herd:

•

Is certified by Texas Animal Health Commission (TAHC) as having a CWD Monitored

Herd Status of level A or higher;

or

•

Has less than five eligible deer mortalities occurring within the facility since May 23,

2006;

or

•

Has CWD test results of 'not detected' returned from the Texas Veterinary Medical

Diagnostic Laboratories on a minimum of 20% of all eligible deer mortalities occurring

within a facility since May 23, 2006, and has had zero 'detected' results.

What is an eligible mortality?

An eligible mortality is any lawfully possessed deer aged 16 months or older that has died

within the facility since May 23, 2006.

What's the difference between being Movement Qualified with Texas Parks & Wildlife vs.

having a status level A or higher with Texas Animal Health Commission?

There is no difference unless you plan to transfer deer out of state. Each state sets their

own entry requirements for moving deer into their state. Most states require three or more

years of status in a Monitored Herd Program such as the Texas Animal Health

Commission's Monitored Program.

Do I have to participate in BOTH the Texas Animal Health Commission Monitored Herd

Program and Texas Parks and Wildlife Movement Qualified program?

NO. As of April 1, 2007, you have to be movement qualified to move deer from your breeder

facility. To be Movement Qualified you either have to have a level A or higher status with

Texas Animal Health Commission or have 20% or more of your eligible deer mortalities

tested at Texas Veterinary Medical Laboratories, or have less than five eligible mortalities.

Which program do I need to be enrolled in?

The best program should be determined by the future goals of your breeder herd. If you

plan to transfer deer out of state, you need to maintain level A or higher status with Texas

Animal Health Commission's Monitored Herd Program. For all in-state activities, the TPWD

movement qualified status will meet the needs of deer breeders.

Texas man saves friend during fatal chimp attack

By CLAIRE OSBORN
Cox News Service
Thursday, April 27, 2006

AUSTIN, Texas — His friend's hand was a mangled mess — most of it was gone. The station wagon had stalled after the driver desperately tried to ram through a gate. And now the chimpanzee that had attacked them on an isolated mountain road in West Africa was coming at them again.

What was supposed to be a day of sightseeing Sunday at the Tacugama Chimpanzee Sanctuary had turned into a moment that will forever be seared into Gary Brown's memory.

"I knew I was going to die, but I didn't want to die running," said the 51-year-old Texas man, who was working as a contractor in Sierra Leone.

Inside the Peugeot station wagon were Brown, two American co-workers, Melvin Mammah, a friend Brown had met in Freetown, and Issa Kanu, who had been driving them back and forth to work and other places during their stay. Brown was in Africa working for a telecommunications company at the American embassy, said officials with Spectrum Solutions and Caddell Construction.

Brown, who returned home Tuesday night, didn't know at the time that more than a dozen chimps had escaped from the 100-acre sanctuary on the outskirts of the capital of Freetown. And he didn't know chimps would attack people. When the chimp had appeared on the road in front of them, he had fished for his camera, eager to get a snapshot.

But Kanu seemed to know something was wrong and put the wagon in reverse.

That's when the chimp charged, Brown said.

He said it tore off the side mirror and broke through the back windshield. "It was like the glass wasn't even there," he said.

Brown, said he's 5-foot-9 and weighs more than 200 pounds, and the chimp probably outweighed him.

"He had every bit two-inch fangs, and he was screaming like a banshee . . . when he was charging us."

Mammah fought the chimp off, but not before the chimp bit off half of his hand, Brown said.

They wrapped up Mammah's hand and drove forward, trying to outrun the chimp, he said. Then they came to a steel gate. Kanu rammed it, and the gate opened, but not enough to get the car through, he said.

The car stalled, its front end crumpled. Reverse didn't work, so they got out trying to push it backward so they could turn it around, Brown said.

"He was charging again, coming up the road," Brown said. "When we turned around, we all dove in the car."

Kanu tried the key again. The wagon started, and he tried to drive through the opening in the gate, but it became wedged into the opening, Brown said.

The chimp "went across the top of the car, and that's when . . . it was just a flurry trying to get away from it. Melvin got pulled out of the car by it."

When he jumped out of the car, Brown said he heard Mammah screaming for help. Everyone else in the car had fled, Brown said.

Brown said he used to work as a telephone lineman and was used to facing down angry dogs. He spotted a large tree limb.

"I grabbed it and I just started to charge around the car to go help Melvin," he said.

"I believe it was God who got me through it, he turned my fear into anger."

The chimp charged him, he said, and he drove the end of the limb into its throat, then chased it away.

Mammah looked like he was bleeding to death but refused to allow Brown to carry him, Brown said. He said he looked for the chimp and spotted it in the jungle, watching him. He could hear chimpanzees screaming all around them.

Brown said he helped Mammah hobble down the road, where a military patrol found them and took them to a hospital.

Later, a van pulled up with Kanu's mangled body. Brown said he thought the other Americans were dead too.

"I can't get it out of my head," he said.

Mammah lost all but two fingers on one hand, but is recovering in a Freetown hospital. The two other Americans escaped safely to the American Embassy.

Doug Cress, the executive director of the Pan African Sanctuary Alliance, said the chimps in the sanctuary are former pets that have been abused by humans. He said the chimp that attacked Brown's group was probably panicked because it was in unfamiliar territory.

Chimpanzees are five times stronger than humans and when they get upset in the wild they uproot trees and throw rocks and "just go insane with pent-up force," Cress said.

Authorities are not sure which chimp attacked the men, said Cress, who is a friend of the Tagucama Chimp Sanctuary's founder. The chimps will be brought back to the sanctuary but will not be euthanized, he said.

Brown, meanwhile, is just glad to be home.

"I just lived a nightmare," he said. "I know if I hadn't fought, we would all be dead.

"From what they explained to me, I became the alpha male when I charged him," Brown said. "He wasn't expecting a fight."