Range Management
Management of the range is the primary tool TWM uses for managing wildlife.
Without proper food, water, or cover, wildlife species cannot survive. Whether you
are managing for abundant quail populations, large white-tailed deer or a diversity
of native songbirds, range management is vital to the success of your goals.
Livestock Management
Livestock management means shifting livestock and grazing intensity to increase
food and animal cover or to improve a specific animals' habitat. Grazing
management focuses on:
1) the kind and class of livestock grazed,
2) stocking rates,
3) periodic rest for pastures by controlling grazing intensity, and/or
4) excluding livestock from sensitive areas to promote vegetation protection
and recovery or to eliminate competition for food and cover.
The development of a livestock grazing plan is specific to your needs as well as
what the habitat will allow.
Fencing
The installation of a perimeter game fence is a management tool that we feel
can sometimes assist you in meeting your goals faster and more efficiently. At
times, this may be the only way to ensure that your goals will be met. However,
we certainly encourage neighbors working together in wildlife cooperatives to
meet similar objectives.
Appropriately designed cross-fencing can play an important role in grazing
rotation plans. Fencing also can be used to improve or protect sensitive areas,
woodlands, wetlands, riparian areas and spring sites. TWM will help you
review your fencing practices and grazing plans to ensure they meet your overall
wildlife management goals.
Prescribed Burns
We have found Prescribed Burning to be one of the most efficient and effective
management tools in range management in the state of Texas. We have seen few
instances where prescribed burns, under the right conditions, does not greatly
enhance the habitat. Prescribed Burns can increase plant diversity, increase food
supplies, act as a natural fertilizer, control unwanted vegetation, and invigorate
new growth. Contact the Certified Burn Specialists at TWM to find out how
you can enhance your property through prescribed burning.
Range Enhancement
Our main focus of Range Enhancement primarily deals with establishing native
plants. In particular, we work with landowners to increase grasses and forbs
(weeds and wildflowers) on their property that provide food and cover for
wildlife or help control erosion. Range enhancement also includes protecting,
restoring and managing native prairies. Our re-seeding mixtures are appropriate
for the ecological regions, soils, and wildlife needs of your property. Our
mixtures provide a diversity of vegetation on your property, which in turn,
provides abundant forage for wildlife and/or seed production the entire year.
Brush Management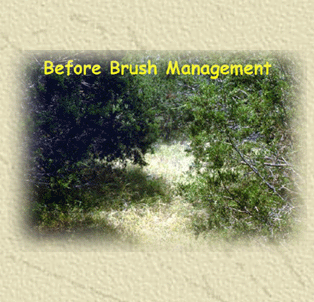 Brush management may involve maintaining,
establishing or selectively removing or suppressing
targeted woody plants species to encourage the growth
of desirable trees, shrubs, grasses and forbs for forage
and protective cover for selected wildlife species. Brush
management
also includes keeping the
proper kind,
amount and distribution of woody cover for the particular
species you are interested in.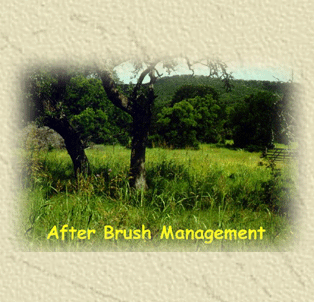 TWM can develop a successful brush management plan
that will examine wildlife cover requirements, soil types,
potential erosion factors and will include plans to control
reinvasion as part of the overall wildlife management
plan.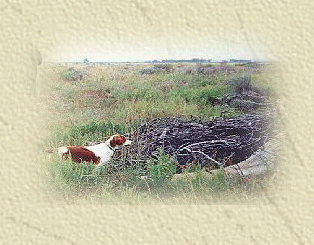 Brush piles can provide additional wildlife cover and
protection in habitats where inadequate natural cover
limits the growth of a selected wildlife species.
Planned placement of brush piles and leaving dead
brush on the ground where it was cut can also protect
seedlings of desirable plant species.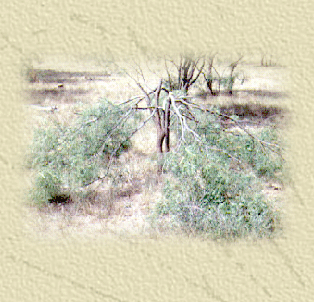 In addition, stacking posts or limbs in tepees can
provide cover for small game and other wildlife in
open areas.
Erosion Control
Erosion control can come in many forms. Ponds, gully shaping, riparian
protection, reseeding areas, as well as typical erosion control structures can slow
or stop sedimentation from your land. Other techniques such as brush management
can also help with erosion control by removing trees and brush and replacing
them with vegetation that will slow water movement down (grasses).
A Pond can be a permanent control structure developed to stop or control
erosion while providing habitat diversity and benefiting wildlife.
Gully shaping involves reducing erosion rates on severely eroded areas by
smoothing to acceptable grades and re-establishing vegetation. We re-seed these
areas with plant species that provide food and/or cover for wildlife.
Protecting Riparian areas such as streams, ponds, and wetlands allows native
species to reduce erosion and sedimentation, stabilize the
streambank, improve
plant diversity and improve the wildlife value of these sensitive areas. Some of
these activities include:
1)building permanent or temporary fences to limit livestock grazing,
2)using native hay to slow and spread water runoff in areas where vegetation,
has been recently re-established,
3)establishing plant buffer areas or vegetative filter strips along water courses,
4)installing rip-rap or other barrier material along embankments to prevent erosion
& protect wildlife habitat,
5)establishing permanent low water crossings to prevent or reduce erosion.